A relation is a connection between two or more people. A person who is connected by blood or marriage or relative is also called the relation. Some relations are breakable and some are not. A relationship between a girlfriend and boyfriend can break but a relationship between mother and child can't break. It's not a relation, it is called an unbreakable bond.

A maternal bond is a relationship between a mother and her child. Both physical and emotional factors influence the mother-child bonding process. New mothers do not always experience instant love towards their children. Instead, the bond can strengthen over time. Bonds can take hours, days, weeks, or months to develop. This maternal bond starts from pregnancy to childbirth. It's a 9-month journey of a child in the womb of the mother.
In between 9 months, there is an internal connection between child and mother. They are connected through the umbilical cord. The umbilical cord is a tube that connects you to your baby during pregnancy. It has three blood vessels: one vein that carries food and oxygen from the placenta to your baby and two arteries that carry waste from your baby back to the placenta.
The umbilical cord starts to form at about 4 weeks of pregnancy. I can give one example, just imagine a bulb and socket they both connected through wire. Without a wire, the bulb can't glow. Similarly, an umbilical cord works just like a wire. The child (bulb) and mother (socket) connected with the umbilical cord (wire), whatever mother eats reaches to child through this umbilical cord.
If you know Mahabharat, there is one story about the chakravyuha. Shri Krishna's sister and Arjuna's wife Subhadra. Subhadra who has never entered a battlefield was inquisitive about the war techniques. So one day she asks Arjuna about Padmavyuha (Chakravyuha). Arjuna was explaining this technique to Subhadra. When he was finished narrating the 1st phase (entering the formation), Krishna interrupted Arjuna and took him away, that is why Arjuna could never finish the explanation of the Padmavyuha technique. Arjuna explained the story to Subhadra at that time she was pregnant. A child (Abhimanyu) listened to the discussion of father arjuna and mother Subhadra when he was in the womb of Subhadra. From that time people believe whatever you do in pregnancy your child adapts many of the things indirectly.
Today, I am going to tell the relationship between one mother and daughter. Please read carefully. This story belongs to one young girl who lives in Pratap Nagar, Nagpur. She was born on 4th March 1999. Her name is Sayali Rajkrushna Gogarkar. She is a young talented smart girl but unfortunately dumb and deaf by birth. She is in BA final year. She is fighting with her in-born disability with full strength. For her ear treatment, Dr. Kirtane from Hinduja hospital, Mahim (West), Mumbai suggested doing a Cochlear implant operation. After this operation, she can able to hear. But before the operation, some tests need to be done. For that, they take some of the tests. The K.F.T (Kidney Function Test) test was found failed and at that moment doctor noticed that her kidneys were not working properly. So Dr. suggested starting kidney treatment after her kidney starts functioning they able to proceed for a Cochlear implant operation. Her kidney treatment started at Muljibhai Patel Soc. Research Kidney Hospital, Nadiad, Gujarat in 02/05/2014 under the observation of Dr. M.M.Rajapurkar.Her treatment started well but later on 07/01/2019 suddenly she faced a brain stroke attack and her kidneys got damaged totally. She took treatment in Meditrena Hospital Nagpur from 07/01/2019 to February 2019. Afterward, she took treatment from Orange city hospital Nagpur till March 2019 and then discharged to home. After that, she took C.A.P.D dialysis but it gets failed in October 2020 due to some infections that's why she was admitted to Asian Hospital Shankar Nagar Nagpur under the guidance of Dr. Sameer Chaube. After 2 months she gets discharged. She was on blood dialysis after that and it was on alternate days. Every time she has to pay nearly Rs.3000. Her father retired and it's really difficult for him to handle all these expenses as he has two daughters. Her father contacted Dr. Hegde sir from Muljibhai Patel Soc. Research Kidney Hospital, Nadiad Hospital Gujarat for Kidney Operation. He suggested finding a kidney donor first. Her whole family was searching for a kidney donor. But they didn't get any donors. At last, her mother wants to give her a kidney to save her life. The life of the child is so precious for the mother. Mother knows everything about us before we were born on this beautiful planet which we called Earth (Dharti Ma). Earth is also a mother. She takes care of us and nature. See the birds, flowers, and water how they feel safe on this earth. In the same way, how fearless is the baby sleeping in the mother's arm? How beautiful is the bond of love. This is affection between these two lives. A mother knows the pain of her small daughter. She wants to save the life of her daughter. How beautifully she agrees to donate a kidney for her treatment. It's not anyone's cup of tea. Proud of her mother's decision.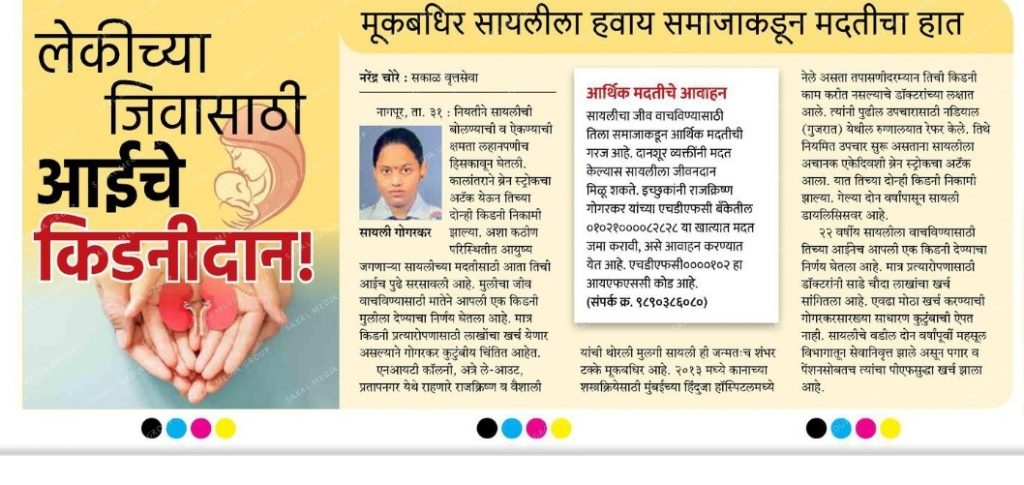 But there are many complications between this operation because the blood group of her mother and sayali is not the same. That's the main critical factor of this operation. Dr. Hegde sir Nadiyal Hospital Gujarat for Kidney Operation estimated the amount of 14-15 Lacks approximately. Till now we had generated Rs. 56,000 through Milaap and Rs. 25,000 through cheque.  Humanity is the greatest of all in this World. Everyone is connected with this humanity relation. Today for the sake of this relation we need your help. It's a humble request from me to contribute as per your capacity to save her life. After all, she is also related to us with this bond of humanity. We know it's a huge amount but your one(big or small) contribution will save a life. We need your contribution and blessings for sayali. You can cross-check all this information by contacting me. We are providing you all the related documents also if you want. We are soliciting you to donate to save Sayali's life. Please share this article as much as you can. This is the only medium we can reach maximum people. Please donate funds to the below link. Click the below link.
https://milaap.org/fundraisers/support-sayali-r-gogarkar
Note– Before proceeding to pay the amount first read some steps. It will help you with hassle-free payment. Select Currency- INR & Amount-  as per your capacity. After entering the amount there is a note. On that note, it is written that give Milaap as a Tip. Most people don't read it. There already 15% selected. Select that 15% dropdown and choose others and enter the amount as '0'. You don't need to pay anyone. So pay the only amount. After that, there is an option to Donate Using. You can see all Options like UPI Payment, Internet banking, Debit/Credit card, Paytm Amazon Pay, etc. 
हमसफ़र बन के हम साथ हैं आज भी
फिर भी है ये सफ़र अजनबी अजनबी,

-मदन पाल
Siddhesh is a marathi poet and writer. He is a author of Marathi book named "Varadhast."